McMaster Outdoors Club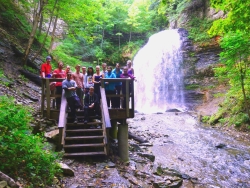 The McMaster Outdoor Club (MOC) is a group of outdoor-enthusiasts: like-minded individuals seeking nature-based experiences for physical, psychological, emotional, social and/or spiritual reasons. Both in Hamilton and abroad, the MOC provides the opportunity to explore and interact with nature despite the indoor-structured university setting. By making the wilderness a part of McMaster identity, the MOC promotes personal growth and leadership through experiential outdoor education and recreation. The MOC provides a diversity of outdoor activities which encourage the development of a heightened eco-concious and the opportunity for individuals to meet, play, be inspired by, and learn from others and the earth. Ultimately, the MOC aims to enrich one's university experience by developing meaningful relationships, reminding individuals of the power of nature, and fostering an appreciation for the beautiful outdoors.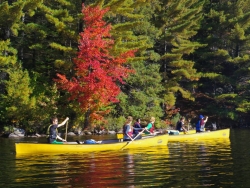 We partake in canoe tripping, backpacking, local hikes, bike tours, cross country skiing, dog sledding, caving, rock climbing, snowshoeing, and much more! Our trips are open to McMaster students and anyone else who is interested can come along too! Started in the 1970's, the McMaster Outdoor Club has years of tripping experience! Check us out at our website, www.macoutdoorclub.ca!
Adventure Attic lends support to MOC and has worked together on various
projects over the years. Adventure Attic offers all MOC members a 10% discount on most regular priced items at the store.
HOW TO SIGN UP FOR EVENTS: For all events that have a cost, participants must register at the front desk of DBAC, where students get gym membership. If you cannot sign up in-person, you may do so via fax or online. For free events, you may send us an email. Please visit our web site (www.macoutdoorclub.ca) for more information about our events, Leadership Opportunities, Certification Courses, Environmental Initiatives and more.
Check us out on Facebook and Twitter:
Facebook: www.facebook.com/groups/47221659549/
Twitter: www.twitter.com/@McMasterOutdoor
Questions? Please contact us:
E-Mail: [email protected]
Phone: 905.525.9140 ext. 23512 (Outdoor Club Office) or 26384 (Wayne Terryberry)
Office hours: Please email the club with questions or to book appointments.
Office location: Ivor Wynne Centre - Room B108. 'Outdoor Recreation Resource Centre' (ORRC) Directions to our office.
McMaster Outdoor Recreation, Department of Athletics and Recreation, McMaster University, 1280 Main St. W., Hamilton, ON, L8S 4K1